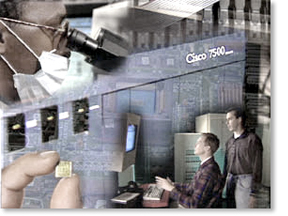 Bob Kalsey is a veteran writer, director and producer of business and documentary videos. He tells stories with strong visuals, compelling prose, authentic dialog, and a touch of humor.

Because he's produced more than 500 motion pictures himself, Bob knows how to write scripts for other producers that can be made within their budgets.

He enjoys working as part of a creative team, helping others to be their very best. And while he's won more than 100 awards for his clients, his goal is always to ensure that each project does the job it's supposed to do.

Some of the world's greatest corporations have relied on Bob to make their messages clear and memorable. He's worked for Apple Computer, Microsoft, Cisco Systems, Intel, Chevron, Hewlett-Packard, and dozens of other companies, large and small.
Bob's specialties include:


Humor
Nothing can get a tough audience on your side -- or make a message more memorable -- than humor. Bob has written dozens of funny videos, commercial parodies, outrageous music videos, skits, gags, speeches and web content.


Interviews
In the glare of lights, surrounded by equipment, with half a dozen people hanging on every word, it's hard for most folks to make any sense at all -- let alone deliver a compelling product endorsement or a motivational message to the troops. Bob knows how to put people at ease, help them look and sound their best, and say the things you want to hear. When the shooting's over, you'll hear them say " Gee, that was fun!"


Marketing Videos
Bob writes and directs videos that make your customers smart enough to buy your products -- videos that motivate them to do just that. He makes a point of understanding your product, your company, your market and your customer.

© 2009 Bob Kalsey ALL RIGHTS RESERVED